Okra Masala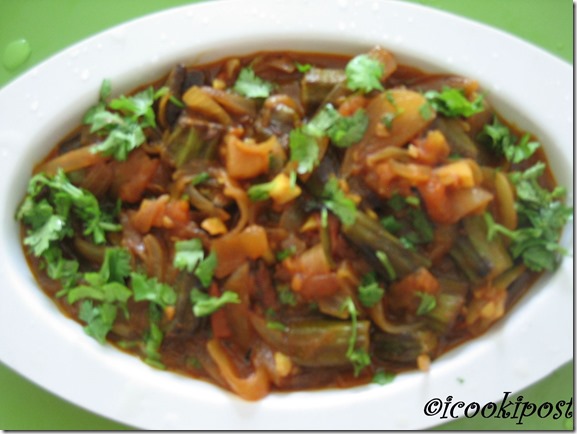 Ingredients:
Okra-250 gms
Onion(chopped)-2
Tomato-2
Green Chilly-2
Ginger-Garlic paste-1 tbsp
Cinnamon-1 piece
Cloves-2
Bay leaf-1
Turmeric powder-1/2 tsp
Jeera-1/4tsp
Chilly Powder-1 tsp
Coriander Powder-1/2 tsp
Garam Masala Powder-1/2 tsp
kasoori methi powder-1/4 tsp
Salt to taste
Coriander Leaves
Oil-1 cup
Preparation:
Wash and clean okra well.To avoid stickiness of okra Pat dry with a paper tissue.

Heat oil in a pan and shallow fry the okra pieces till light brown.place the pieces in a kitchen tissue to absorb excess Oil.

Heat oil in another pan and add cloves,cinnamon,bay leaf and jeera.

Add chopped onions and fry till brown in color.then add green chilly ,ginger-garlic paste and fry for sometime.

Add tomatoes and all the masala powders,salt and cover and cook till tomatoes are done.Stir well to avoid sticking to the pan.

Add fried okra pieces with little water and mix well.cover and cook for 2-3 mins.

Sprinkle garam Masala powder on top and garnish with coriander leaves.

Serve hot with chappathi.