Mushroom Tikka Masala
Mushroom Tikka Masala is prepared by marinating mushrooms in yogurt with Indian spices and cooked in a rich creamy gravy. This curry goes well with roti or chappathi. This recipe is adapted from my favorite blog Veggie belly of sala Kannan.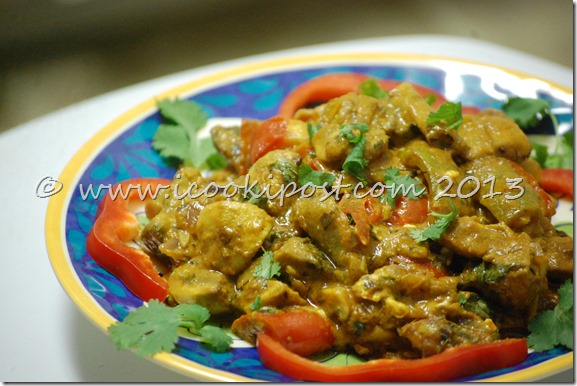 Ingredients
For the Sauce
Onion(chopped) – 1

Ginger-garlic paste-2 tsp

Tomatoes(medium, ripe and pureed) – 3

Cumin seeds –3/4 tsp

Cumin powder –1/2 tsp

turmeric powder –1/4 tsp

Red chilly powder – 1/2 tsp

Coriander powder – 1/2 tsp

Dry kasoori methi – 2 tbsp

Heavy Cream – 2tbsp

Oil –2tbsp

Salt

Coriander leaves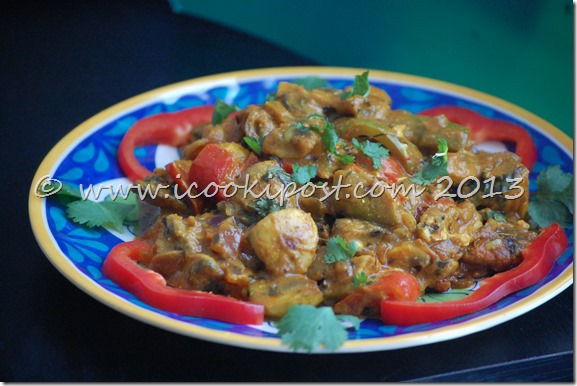 For Marinating Mushrooms
Button Mushrooms(white) –15

Bell Pepper(green or red,cubed) –1

Turmeric powder –1/4 tsp

Chilli Powder – 1/4 tsp

Yogurt –1/4 cup

Oil –1 tbsp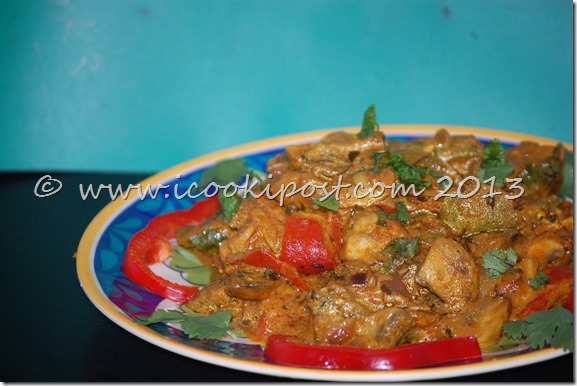 Preparation
Clean the mushrooms and cut them into half .If they are small, leave them whole.

Mix together mushrooms,Bell pepper,turmeric,chilli powder and yogurt. Keep aside for 20 minutes.

Heat oil in a pan. Add cumin seeds and once they start to splutter,add chopped onion.Saute till onions turn brown in color.

Add ginger-garlic paste and once the raw smell goes,add tomato puree,turmeric powder,chilli powder and coriander powder.

Bring it to boil and let the gravy cook on medium flame for about 10 minutes or till it thickens.If the sauce gets thick, add 1/2 cup of water whenever needed.

In the mean time,heat oil in another pan.Add mushrooms and bell peppers in batches.Make sure not to crowd the pan.cook on medium heat till they start to change color to brown.Don't move mushrooms around too much,they won't brown.

When the tomato sauce is cooked well,add the sauteed mushrooms and bell peppers to it.Add kasoori methi and salt.Let it cook on medium flame for 3-4 minutes or till bell peppers are cooked.

Turn off the heat and add heavy cream to it. Stir well.

Garnish with coriander leaves.

serve with Roti.