Okra Scramble(Vendakka chikkiyathu)
This is an easy and quick side dish for rice.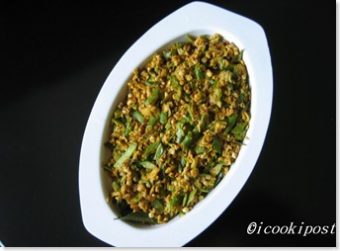 Ingredients:
Okra(vendakka) – 8-10  nos.
Egg – 2
Onion (chopped) – 1
Green chilly – 2
Ginger – 1/2 inch piece
Red chilly powder – 1tsp
Turmeric Powder – 1/4 tsp
Pepper powder – 1/2 tsp
Meat masala powder – 1 tsp
Curry leaves
Salt
Oil – 3tbsp
Preparation:
Wash okra and cut lengthwise. Chop into thin slices.
Heat oil in a pan. Saute chopped onion, ginger and green chilly.
Add okra pieces and all the masala powders and stir well. Cover and cook till okras are done.
Add beaten eggs to it and scramble it till dry.
Garnish with curry leaves.