Palak Paneer (spinach with cottage cheese cubes)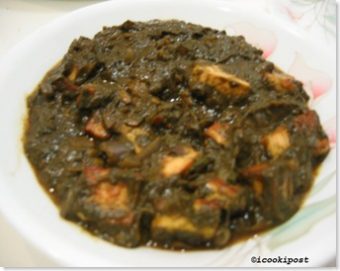 Ingredients:
Paneer – 200gms
Spinach – a bunch
Onion(medium) – 1
Tomatoes  pureed – 2
Ginger -garlic paste – 1tbsp
Cumin powder(jeera) – 1/4tsp
Red chilly powder – 1/2tsp
Turmeric powder – 1/4 tsp
Kasoori Methi powder – 1/4 tsp
Oil
Fresh cream – 1 tbsp
Salt
Preparation:
Remove stalks of spinach and wash thoroughly.cook spinach with green chilly and little salt till it wilts. Let it cool.
Drain water and grind it into a fine paste.Do not cover spinach at all to retain its green color.
Fry paneer cubes in oil till light brown.
Heat oil in a pan.Saute onions till brown.Add ginger-garlic paste,jeera powder,red chilly powder,turmeric powder,kasoori methi powder and fry .
Add tomato puree, little salt and fry till water gets evaporated.
Add spinach paste and cook till spinach bubbles.
Remove from heat and add paneer cubes and fresh cream and mix well
Serve hot.