Cheera Sambhar(Palak Sambhar)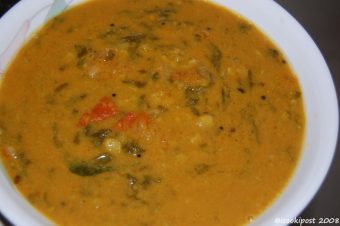 Ingredients:
Spinach(palak) – 2 bunch
Toor Dal – 3/4 cup
Onion (big) -2
Sambhar powder – 1 tbsp
Tomato (medium,chopped) – 2
Coconut Oil – 1 tbsp
Mustard seeds – 1 tsp
Dry red chilly – 2
Fenugreek seeds – 1/4 tsp
Curry leaves – 2 sprigs
Water
Salt
Coconut milk – 1/2 cup
Preparation:
Pressure cook toor daal, spinach, chopped tomato, sambhar powder, salt and required amount of water.
Once it is done, open the lid and add coconut milk( or you can add coconut paste) to it and bring it to boil.
Heat oil in a pan.splutter mustard seeds, red chilly, fenugreek seeds, curry leaves and add it to the curry.
Serve with rice.