Parippu Pradhaman (Moong Daal Kheer)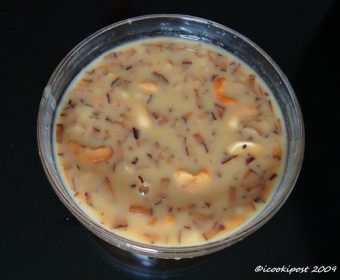 Ingredients:
Moong dal(cherupayar parippu) – 250 gms
Jaggery(sharkara) – 500 gms
Ghee – 100 gms
Cardamom powder – 1 tbsp
Coconut – 2
Coconut slices (thengakothu) – 2 tbsp
Cashew nuts – 8
Dry ginger powder(chukku podi) – 1 tsp
Preparation:
Wash and clean daal and in a wide pan dry roast till light brown in color. pressure cook with sufficient water. Mash well and and keep aside .
Fry cashewnuts in ghee and keep aside.
Using a blender, blend grated coconut with 1/2 cup of luke warm water . squeeze out to extract first milk. sieve it and keep aside.put the coconut residue back into the blender and add 3 cups of water to it and blend well.squeeze out and pass it through a sieve to extract 2nd milk. Again add 4 cups of water to coconut and blend . squeeze out and sieve it to extract 3rd milk.
To make jaggery syrup(sharkara paani) Melt jaggery by adding 1 cup of water and heat on low flame .strain to remove impurities if any. (The jaggery i got from shop is golden brown in color. In kerala we use dark brown colored jaggery for making payasam)
Add melted jaggery to previously cooked daal and mix well.Add ghee to it and stir continuously for 3-4 minutes.
Add 3rd extracted coconut milk(moonaam paal) to it and boil. when it starts thickening and becomes half add the second extracted coconut milk(randaam paal) cook on low flame for sometime.
Finally add first extracted coconut milk to it and stir well.Don?t boil . Remove from heat.
Add cardamom powder,dry ginger powder to it and mix.
Heat ghee in a pan and fry coconut slices till brown in color.
Garnish with fried cashewnuts and coconut pieces.