Naranga Uppilittathu (Lime Pickle in brine)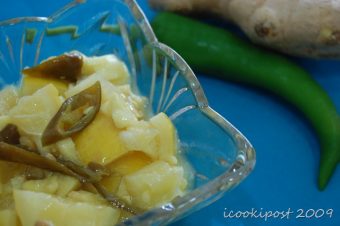 Ingredients:
Yellow Lime(cheru naranga) – 3
Green Chilly – 10
Chopped Ginger – 1 1/2 tbsp
Salt – 1 tbsp
Preparation:
Wash lime and dry them by wiping with a clean towel.
Cut lime into medium pieces.
In a Bowl, mix lime with salt, chopped green chilly, and chopped ginger.
Transfer into a jar and Shake well to combine. Keep it outside for 3-4 days.
Serve with Kanji or rice. Refrigerate after serving.