Payyoli Chicken Fry/Payyoli Kozhi Porichathu/Payyoli chicken Porichathu
This spicy and yummy chicken fry is quite popular in payyoli,a place situated in the North Malabar coast of Kerala .Also Payyoli is the hometown of sprint Runner P T Usha aka "Payyoli Express".Now this dish  has become a  signature dish of Salkara restaurant in kerala.This chicken fry is prepared without adding garlic.I got this recipe from Asianet's cookery show "Foodpath" hosted by Raj kalesh.This goes great with rice as a side dish.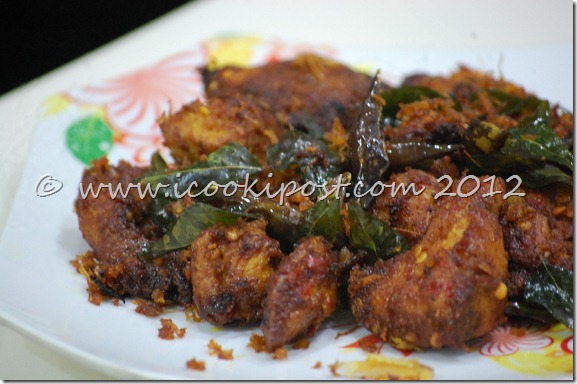 Ingredients
Chicken – 1 kg
Kashmiri Red chilly paste – 4 tbsp
Ginger paste – 2 1/2 tbsp
Turmeric powder – 1 tsp
Meat Masala powder – 1 tsp
Vinegar – 3 tbsp
Green Chilly(cut lengthwise) – 4
Curry leaves  – 2 sprigs
Grated Coconut – 4 tbsp
Salt
Coconut Oil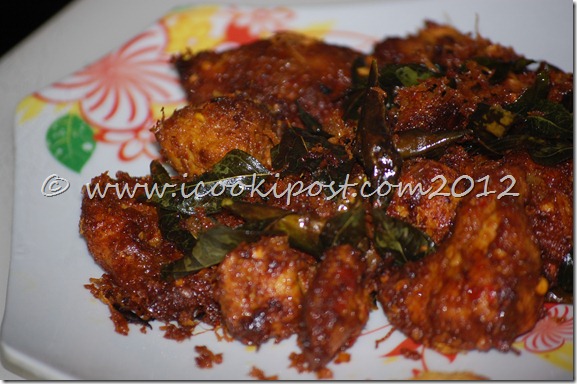 Preparation
Boil kashmiri red chilly (10-15 nos) in water for an hour.Then grind it into a fine paste.Using kashmiri red chilly gives a nice red color to the chicken fry.
Marinate chicken pieces with 2 tbsp ginger paste,1 tbsp vinegar and salt. Keep aside for 15 mins.
Add 4 tbsp red chilly paste,1 tsp turmeric powder,1 tsp meat masala powder,1 tsp ginger paste, 2 tbsp vinegar and mix well.Add this mix to the chicken.Keep aside for 1 hour.Reserve some chilly paste and mix with grated coconut.
Heat coconut oil in a Kadai.Fry the chicken pieces on medium flame.Once chicken pieces are half cooked,add grated coconut mix,green chilly and curry leaves to it. Fry until chicken is done.
The fried coconut ,crispy curry leaves and green chilly makes chicken fry even more tastier.
Serve with rice.