Pomegranate Raita (Anaar Ka Raita)
Pomegranate raita is healthy and prepared using less ingredients.It tastes slightly different from the usual one.The only difficult part while preparing this raita  is to separate the aril(seed casings)seeds.Freezing the entire fruit makes it easier to separate the Arils.This tangy raita goes great with biriyani, paratha or rotis.
Pomegranate juice is rich in vitamin C and high fibre. This is widely used in Ayurvedic medicines and good remedy for diarrhea, dysentery and intestinal parasites. The seeds and juice are considered a tonic for the heart and throat and also used as eye drops to slow the development of cataracts.
An very effective way of quickly harvesting the arils is to cut the pomegranate in half, score each half of the exterior rind four to six times, hold the pomegranate half over a bowl and smack the rind with a large spoon. The arils should eject from the pomegranate directly into the bowl, leaving only a dozen or more deeply embedded arils to remove. (Source :Wiki)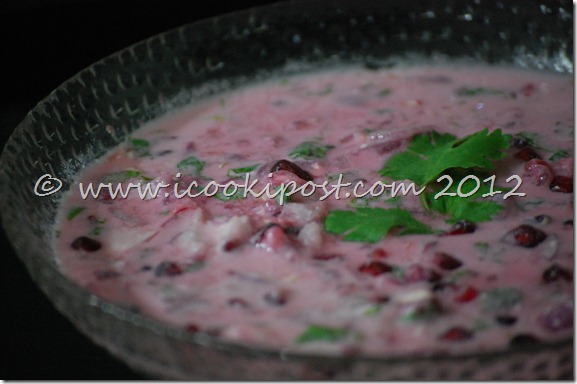 Ingredients:
Pomegranate seeds – 1 cup
Onion(finely chopped,Medium) – 1
Green Chilly (chopped) – 3
Curd – 1 cup
Coriander leaves(chopped)  – 3 tbsp
Salt – to taste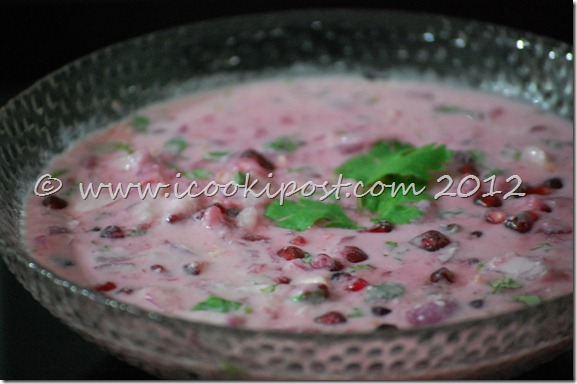 Preparation:
Cut the fruit and separate the seeds.
In a bowl,Add curd,chopped onions,green chilly,coriander leaves and salt. Stir well.
Finally Add pomegranate seeds to it and mix it.Raita will be pink in color.
Garnish with coriander leaves.Serve with Rice or Roti.