Potato-Capsicum Curry(Aloo and Simla Mirch Subji)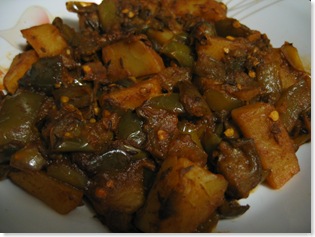 Today, I'm going to share a rare blend of side dish with you.
Usually, you find most of the veggie side dish is a combination of two vegetables, but I added brinjal for a change, and I should admit that it came out very well.
You can use any color of simla mirch (red, green or yellow) out there in the market to give a colorful look to your dish.
Ingredients:
Large green bell peppers (Simla Mirch) – 2
Brinjals (baingan) medium size ones – 3
Medium Potatoes – 2
Chili Powder – 1 to 2 tsp
Salt to taste – 1 to 2 tsp
Your favorite cooking Oil – 3 tbsp
 Cumin Seeds – ½ tsp
Turmeric Powder – ½ tsp
Preparation:
Heat the oil in a pan and add the whole cumin seeds.
When the seeds crackle, add the turmeric powder. It will froth slightly. Immediately add the chopped potatoes and let it medium fry before you add bell peppers and brinjal. Bell peppers and baingan may not take whole lot of time to cook through.
Add the chopped bell peppers, salt, chili powder and stir. Set the flame to medium low and cover with a lid.
Cook till veggies are done, about 15 to 20 mins. Serve warm.