Potato-Carrot Dosa
As carrot and potato are rich in vitamins, both kids and adults love this dosa. This is a good combo with ulli (shallot) chammanthi or coconut chutney.
This goes to Srivalli's Dosamela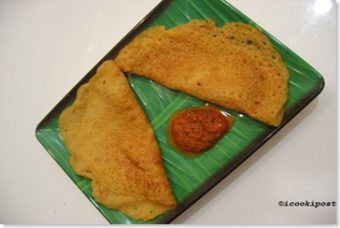 Ingredients:
Potato (medium)-2
Carrot(medium) – 2
Raw rice – 1 cup
Onion -1
Green chilly – 4
Asafoetida – one pinch
Curry leaves
Salt
Oil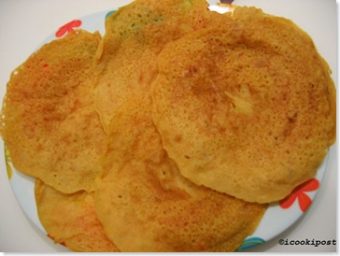 Preparation:
First peel off skin of potatoes and carrots and chop into small pieces.Boil till soft.
Soak raw rice in water for sometime.
To make dosa batter, grind raw rice with boiled veggies,green chilly chopped onions,asafoetida and curry leaves.
Heat oil in a non stick pan and make dosas.
Serve hot with ulli chammanthi.
To make ulli chammanthi:
Shallot -8
Dry red chilly -2-3
Salt
Coconut oil
Fry shallots and dry red chilly till light brown in oil.grind it into a fine paste. Add coconut oil and salt to it and mix well..