Ribbon sandwich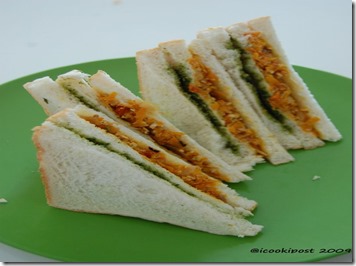 Ingredients:
Bread slices – 6
Grated carrot – 1
Onion(chopped)- 1
Tomato(chopped) – 2
Egg -1
Salt
Pepper powder – 1/2 tsp
Cheese(grated) – 2tbsp
Oil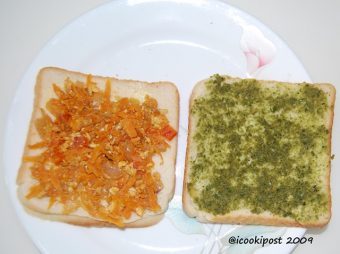 Green Chutney Preparation:
Grated coconut – 1/2 cup
Coriander leaves -1/4 cup
Mint leaves – 1/4 cup
Salt
Butter – 1tbsp
4.Butter (Spread for bread slices)
Preparation:
Heat oil in a pan.saute chopped onion,tomatoes and once it is done add beaten egg,salt to it and fry.Sprinkle pepper powder and grated cheese to it and mix well.
For the green chutney,grind together coriander leaves,pudina leaves,grated coconut and salt to a fine paste.Add butter to it and mix well.
Remove the crust and spread one side of bread slices with butter.Take one slice of bread and spread the carrot mix on it. Place another slice of bread on top of it .Spread green chutney .
Place one more slice of bread on top.Press firmly and cut it diagonally using a knife and serve.
Repeat the same with the remaining slices.