Coconut Laddoo
School holidays are always fun for kids and we adults too can relax a bit during this time. My first one wanted to get some sweets and thought why not I try something at home. I looked around to prepare something quick and easy, and found a tin of condensed milk which I bought sometime ago to make Kheer. If you do not know what "Kheer" is then watch this video. This Indian sweet is exceptionally easy to make as it needs only 3 ingredients.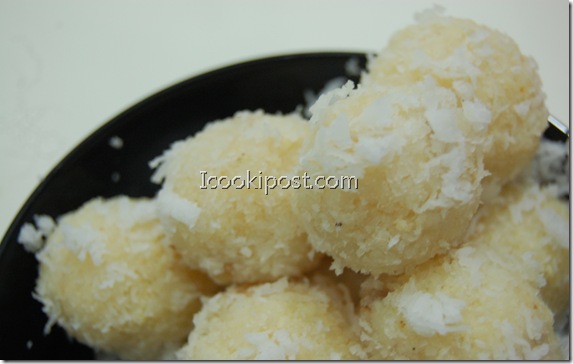 Ingredients:
Grated coconut – 4 cups
Milkmaid – 1 tin
Ghee – 1 1/2 tbsp
Preparation:
Keep aside 50 gms of desiccated coconut .
Preferably, use a heavy bottomed pan and heat it well. Add remaining coconut and milkmaid and stir well on low flame for 5 minutes.
When  it starts to separate from the sides of the pan, turn off the heat and let it cool.
Once it is cool, grease your palms with little ghee and make balls.
Finally roll the laddoos in desiccated coconut spread on a plate.
Store yummy coconut laddoos in air tight containers.
I am sending this to Diwali sweet recipes – Festival recipes – Indian sweet recipes hosted by Sameena.