Almond Burfi/Badam Burfi
I wish you all a happy sree Krishna jayanthi and on this special occasion I made burfi with almonds.Almonds are a good source of protein and this is a perfect healthy and nutritious sweet for kids.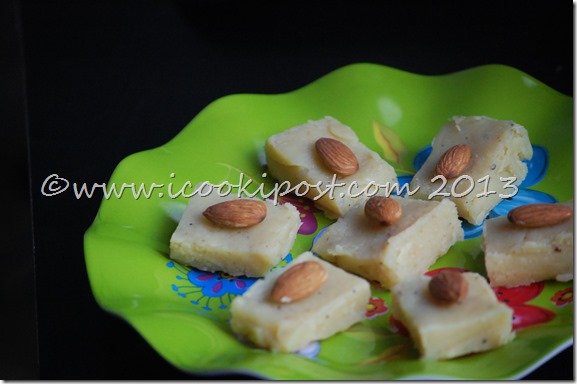 Ingredients
Almonds – 1/2 cup

Milk – 3/4 cup

Milkmaid/Condensed Milk –1/2 tin

Cardamom powder – 1/4 tsp

Ghee – 4 tbsp

Milk powder – 4tbsp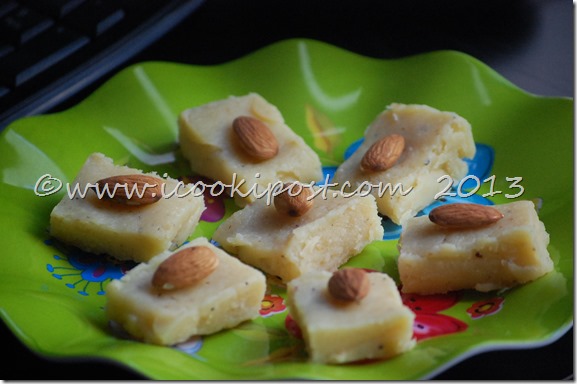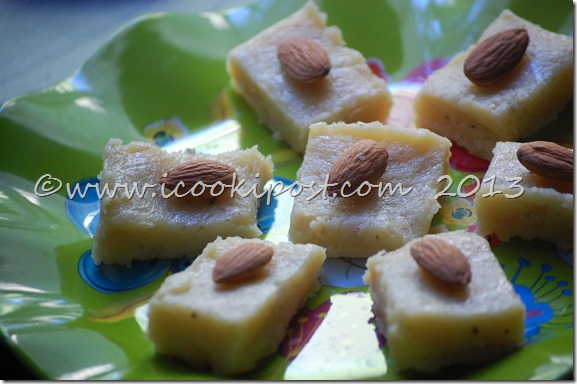 Preparation
Soak almonds in warm water for 1 hour. Peel off the outer skin and grind the almonds into a fine coarse paste with 1/4 cup of milk.

Heat a heavy bottomed pan. Add almond paste,remaining milk and ghee to it.Stir continuously on low flame.

When the mix starts to thicken,add milkmaid,cardamom powder and milk powder to it. Stir continuously till the mixture thickens to form a dough like consistency and starts leaving the sides of the pan.

Remove from fire.

Spread the mix into a plate greased with ghee.

Let it cool for 30 minutes.

Cut into squares or desired shapes.

Garnish with almonds.

Store in a airtight container.