Uppumanga Pachadi /Salted Mango Pachadi (ഉപ്പുമാങ്ങാ പച്ചടി)
Uppumanga or salted mango is very traditional and popular in Kerala.This is an easy and quick recipe of salted mango and a good combo with rice or porridge.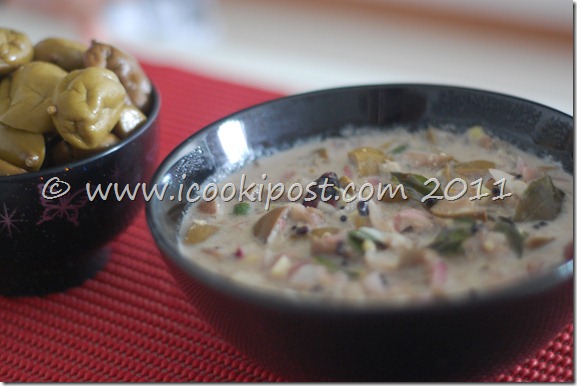 Ingredients
Salted Mango(uppumanga) – 1 cup
Coconut Milk – 2 cup
Shallots(chopped) – 1/4 cup
Green Chilly(chopped) – 1 tbsp
Ginger(chopped) – 1/2 tsp
Mustard seeds –1/2 tsp
Fenugreek seeds(uluva) –1/4 tsp
Shallot(for tempering) – 1 tbsp
Dry red Chilly- 2
Curry leaves
Oil – 2 tbsp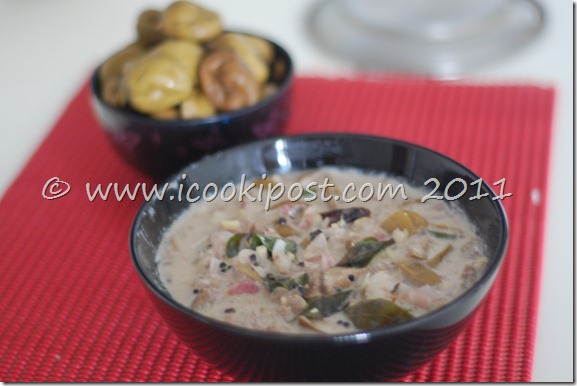 Preparation
Grind coarsely shallots ,green chilly and chopped ginger.
Boil coconut milk in a pan with little water and reduced to half.
In a bowl,combine the shallot mix with chopped mangoes and 1 cup coconut milk. Mix well.
In a pan,heat coconut oil.splutter mustard seeds,fenugreek seeds and once it is done,add chopped shallots,dry red chilly ,curry leaves and saute.
once it is done,add the seasonings  to the mango mix and stir well.
serve with rice as side dish.