Vegetable Biriyani
This is my own style of making vegetable biriyani. This  is a 100%  healthy food  for the fussy eaters.it is   easy to make if you are running out of time. you can add any type of veggies while making biriyani.it tastes great with green chutney and raita.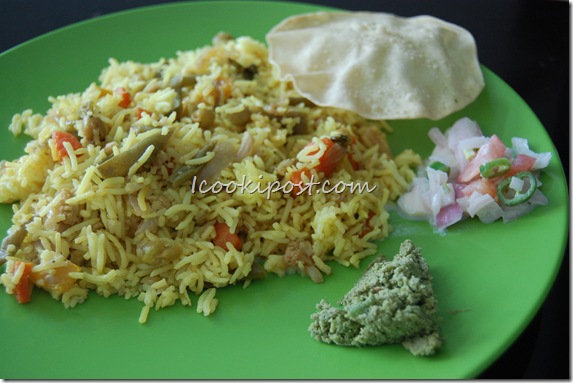 Ingredients
Basmati rice – 1  cup
Onion(chopped) -3
Ginger-garlic paste – 2 tsp
Green peas(boiled) – 1/4 cup
Carrots (chopped) –2
French beans – 1/4 cup
soy chunks(boiled) – 1/4 cup
Potato(chopped) – 1
Cinnamon – 2
Cloves – 2
Bay leaves –2
Cumin seeds – 1/2 tsp
Turmeric powder – 1 pinch
Salt
Ghee
water – 2 cups
Coriander leaves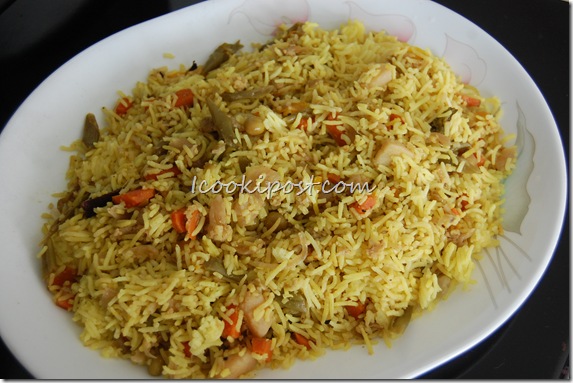 Preparation
wash and soak rice for 15 minutes.
Heat ghee in a pan. Add rice and fry for 10 minutes till crispy.
Boil 2 cups of water and keep aside.
Heat ghee  in a pressure cooker.Fry cumin seeds, cinnamom,cloves, bay leaves.
Add chopped onions, ginger-garlic paste and saute well.
Add chopped vegetables and fry for 2 minutes.Add rice and salt.
Finally add previously boiled water (add water double the quantity of rice) to it and mix well.sprinkle a pinch of turmeric powder to it to get a yellow color.
close lid and bring to full cooking pressure on maximum heat. then reduce to low flame and cook for another 3 minutes.
Allow cooker to cool gradually.
Garnish with coriander leaves.
Serve with coriander chutney,papad and raita.
Coriander chutney
Ingredients:
Coriander leaves – 1 bunch
Green chilly –2
Grated coconut –1/4 cup
Tamarind – 1 tbsp
Garlic pods – 3
Salt
Grind all the above ingredients into a paste.
Onion raita
Ingredients:
Onion(chopped) –2
Tomato(chopped) –2
Green Chilly(chopped) –2
Curd – 1/2 cup
Salt
Mix all the above  ingredients well to make  yummy raitha.