Bhindi Gujarati/Gujarati style Okra Subji
This is a Gujarati style preparation of okra with spices,gram flour and grated coconut.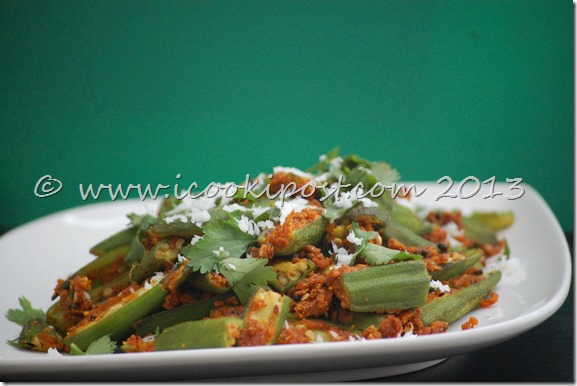 Ingredients
Okra(Bhindi/Vendakka) – 500 gms
Turmeric powder –1/2 tsp
Red chilly Powder – 1 tsp
Coriander powder – 1 1/2 tbsp
Garam masala powder –1/2 tsp
Grated coconut – 1 tbsp
Coriander leaves(chopped) – 2 tbsp
Bengal Gram Flour(Besan/Kadala maavu) – 1 tbsp
Mustard seeds –1/2 tsp
Fenugreek seeds(uluva) –1/4 tsp
Asafoetida powder (kaayam) – 1/4 tsp
Salt
Sugar –1tsp
Oil – 3tsbp
Coriander leaves – to garnish
Grated Coconut – to garnish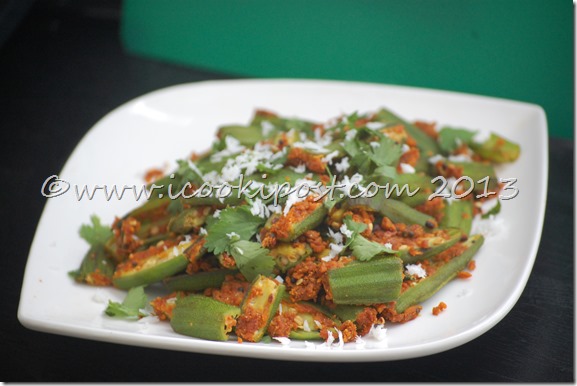 Preparation
Wash okra well and wipe off with a clean towel. Trim both the ends.slit length wise and cut into medium pieces.
In a bowl mix turmeric powder,chilly powder,coriander powder,sugar, garam masala powder,grated coconut,coriander leaves,besan and salt.
Heat oil in a pan.Splutter mustard seeds, fenugreek seeds,asafoetida powder.Once it is done, add chopped okra pieces.
Stir well and cook on low flame till okra is done.Take care not to get okra burned.
Finally add the  spicy powder mix to it and stir well. Cook on low flame for 2-3 minutes.
Remove from fire.
Garnish with coriander leaves and grated coconut.
Recipe Source: Vanitha Magazine 2011