Book Review – Hari Nayak's "My Indian Kitchen"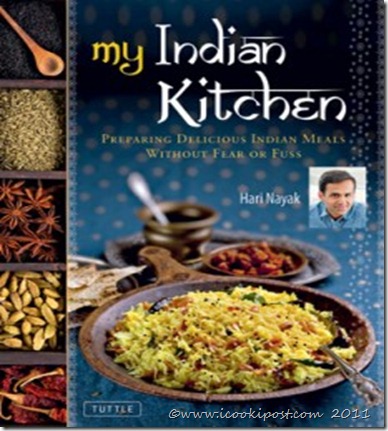 Author: Hari Nayak
Publisher:Tuttle Publishing(Berkeley Books)
Photographer:Jack Turkel
Price:US$27.95 (Available at all leading Bookstores in Singapore:
Kinokuniya,MPH,Times, Popular,Harris,Times Newslink, (Changi Airport),Hudson (Changi Airport) and Amazon stores worldwide).
Dear Readers,
Since 2007, I've been very consistent in updating my personal cooking blog and an avid reader on Indian cooking books and publications. I'm very excited to let my fellow readers/bloggers know that I recently crossed 300+ recipe posts and still going strong. I noticed that most cooking bloggers get quite bored by posting similar recipes in one or another form after a while and either stop blogging completely or move away to do something else. The same fatigue applies to me as well, but I do look for doing things differently and try unique recipes on my husband first and kids later

. So, the secret recipe to keep me going is my interest in cooking research and trying out new things.
After a daily routine of managing two naughty kids, I do squeeze some time to continue my cooking research and usually spend a reasonable amount of time in community libraries and online book stores (Kindle, Kobo). As a typical consumer, I do look for free books first and then look for something really good which I may decide to spend money on. During my recent visit to the nearby library, I stumbled upon a book on Indian cooking by Hari Nayak and decided to borrow it for a week.
Later in the week, it was quite coincidental that I was approached by Tuttle Publishing to do a book review and offered a sample of the same. Quickly, I decided to dig deeper inside and came out with following review/ thoughts:
At a first glance, it sort of looked as an average book with lots of good pictures and content scattered across with nice categorization. Further reading revealed the following:
The sequencing of sections is nicely outlaid.
Very good sections to help amateur cooks before they jump into the world of Indian Cooking – the required tools, simple tips and tricks and general knowledge on India ingredients and most importantly mixing of spices and making pastes. Explanation of tips on Roasting/Grinding spices, Sauteing and Tempering is great.
As you would agree that most common recipes found on the web is just a repeat post(e.g.: hundreds of black pepper chicken curry preparation method and pictures) by hundreds of bloggers and cooking websites, and hence there is nothing new. So, one of sections I liked is the approach of picking a dish and pairing it with wine. Even though I'm not a wine drinker, suggestions on wines with specific type of Indian food is something worth noticing.
Explanation on method, preparation time and list of ingredients is nicely laid down with good and meaningful pictures for any veteran or amateur cooks' to follow. Another piece of suggestion to make it more meaningful would have been to add the calorie details with each recipe. These days, people are very conscious about what they eat and hence calorie information is something very critical information to have with each recipe. Yes, I'm also working towards that to update my recipes with as well.
There is a section called indian spice mixes where he illustrates the blending of spice mixes called masalas. Some of the recipes include panch phoran,vindaloo curry paste, dhaba spice, green chilli masala etc.
Chutneys or raitas are a must in indian cuisine, and in the 2nd chapter he included a variety of unique chutneys and raitas like, sweet mango chutney, spicy apricot chutney, carrot yogurt slaw, cucumber and yogurt raita.
Some of the appetizers which caught my attention are "Shrimp and Apple Salad", "Shrimp Bruschetta and Pomegranate" and "Mint Potato Salad". I'm definitely going to try these unique ones very soon and post my own picture here – stay tuned.
Being health conscious I prefer vegetarian food and this book  has a good collection of vegetarian recipes which are simple and easy to make without any fuss. Some of them are Hyderabadi mixed vegetables, bengali potatoes with spices and pumpkin with coconut. I tried a few like stir fried okra and cauliflower with ginger and cumin. Pictures of those trial are below.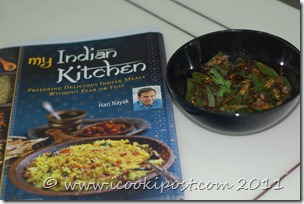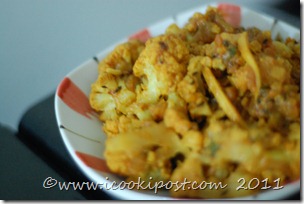 Looks like the author grew up in a small town on the western coast of India called Udupi and he is more into seafood delicacies. Seems like his favorite and featured Mangalore fish curry in this book is a must try.There are also other varieties of traditional fish and seafood dishes like, Stir fried shrimp, Malabar crab curry, coconut chicken curry, Madras chicken, Kerala coconut Beef and Lamb curry(Masala Gosth).
Rice is an important part of Indian meal and when it comes to rice and breads, Biriyani and Naan are the most popular. Some of the rice recipes featured are coconut shrimp biriyani, saffron chicken biriyani and breads like garlic Naan, fried puffed bread etc.
I liked the traditional drink recipes like Ginger cardamom chai and new inventions like watermelon lemonade and Mumbai fruit punch which are very unique and goes well with most Indian meals.
Most Indian meal is incomplete without a traditional Indian sweet.This book has a great collection of desserts like Kheer, Pistachio Mango ice cream and Almond butter cookies.
Overall, the book is a good addition to an existing vault of your cooking and cutlery collection and helps both amateur and advanced chefs.
Check out this link for more info about the Author and his dishes:http://www.Harinayak.com/