Adraki Gobhi( Cauliflower with Ginger)
This is a perfect side dish to serve with roti and dal curry.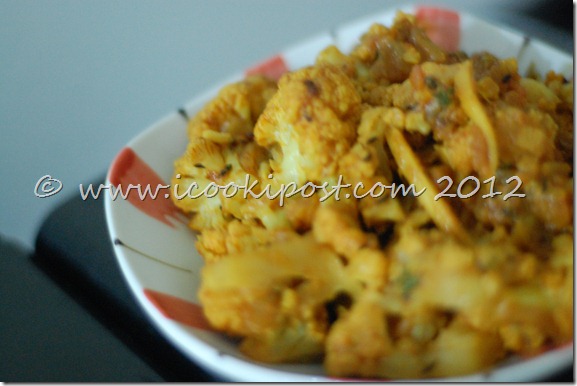 Ingredients
Cauliflower(cut into florets) – 500 gms
Onion(medium,chopped) –1
Tomato(chopped,medium) – 1
Ginger-garlic paste-1 tbsp
Turmeric Powder- 1/2 tsp
Red chilli Powder- 1 tsp
Coriander powder- 1 tsp
Garam Masala – 1tsp
Cumin seeds – 1 1/2 tsp
Fennel seeds – 1tsp
Ginger(peeled and cut into strips) –2 " piece
Coriander leaves- 2 tbsp
Oil –2 1/2 tsp
Water- 1/2 cup
Salt –to taste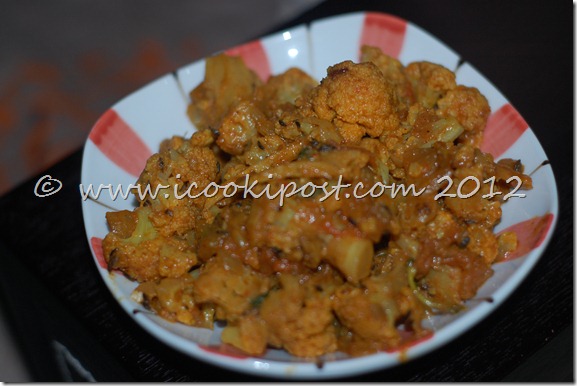 Preparation
Heat oil in a pan.Add cumin seeds and fennel seeds.cook stirring until the seeds begins to brown about 30 seconds.
Add chopped onion and saute till brown.Add ginger-garlic paste,turmeric powder, chilly powder,coriander powder,chopped tomato,salt and 1/4 cup of water.
Saute for one more minute until the oil leaves the masala.
Add cauliflower florets and cook stirring until it begins to brown.
Add the remaining water .Cover and cook until cauliflower florets are tender.
Add garam masala,ginger and coriander leaves and mix well.Cook until masala is dry.
Serve hot with Roti and Tadka Dal.
Recipe Source:My Indian Kitchen by Hari Nayak.
This Entry goes to Spotlight-Winter Vegetables hosted by Indrani.