Chakka Unniyappam/Jackfruit Unniyappam
Unniyappam is a popular sweet in kerala cuisine.This is prepared using jackfruit preserve(chakka Varatti).Chakka Varatti is prepared using ripe jack fruit,ghee and jaggery into a thick paste or jam like consistency.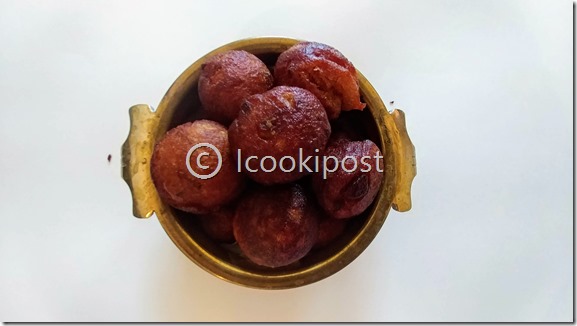 Ingredients
Jackfruit Preserve/Chakka Varatti – 1 cup
Raw Rice/Pachari/Sona Masoori Rice – 1 cup
Cardamom powder – 1/2 tsp
Coconut bits/Thengakothu – 2 Tbsp
Jaggery – 5 cubes
Salt – a pinch
Baking Powder – 1/4 tsp
Ghee – For Frying
Preparation
Soak rice in water for 6 hrs.Wash and Drain.
Heat ghee in  a pan.Roast coconut bits till golden brown.
Boil  1 cup of  water and jaggery. Melt the jaggery  to  get  a thick syrup.Strain to remove Impurities.keep aside to cool.
Grind raw rice with 1 cup melted Jaggery into a coarse paste.Add cardamom powder, coconut bits,salt and baking powder.The batter should be thick(like Iddly batter) in consistency.
Let it rest for 5 hours.
After resting,if the batter is too thick,you can add 1/3 cup of water or jaggery syrup and mix.
Heat ghee or Coconut oil in a  unniyappam pan.Once oil starts to bubble,Pour 1 tbsp or 3/4th  of batter into each hole.
Once one side is cooked, turn to the other side .It takes 3-5 minutes to get cooked on one side.
Cook both sides golden brown in color.Remove the unniyappam from the pan.
Serve with Evening Tea.
Notes:
If the batter is too watery,it will absorb more oil.
Cook the unniyappam on low flame.Other wise inner part will not cook properly.
Do Check out recipe of kerala style soft unniyappam :Unniyappam