Malva pudding is a popular south African dessert.It is served hot with either vanilla ice cream or custard.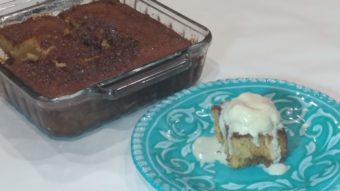 All purpose flour/Maida – 1 cup
Sugar – 1 cup
Eggs – 2
Apricot jam – 1 Tbsp
Baking soda – 1 Tsp
Butter – 1 Tbsp
Milk – 1 cup
Salt – a pinch
Vinegar – 2 Tsp
Vanilla Essence – 2 Tsp
For Sauce
Butter – 1/2 cup
Sugar – 1/2 cup
water – 1/3 cup
Heavy Cream – 1 cup
Vanilla essence – 1 Tsp
Preparation
Preheat Oven to 350 degree F/180 degree C
In a bowl, beat sugar ,eggs and Jam until fluffy.
Add flour little by little , baking soda and butter.Beat  well.
Add butter,milk,vinegar and vanilla essence until completely blended.
Grease a baking pan with butter.Transfer the mix into it.
Bake for 30 minutes.
In the mean time,prepare creamy sauce.
Heat a pan. Add butter and let it melt.
Add water,sugar,cream and vanilla essence.
Let it boil.
Pour the hot sauce immediately over the pudding as it comes out of the oven.
Let it rest for 10 minutes to get the sauce soaked well.
serve hot with ice cream or custard.
For detailed preparation Video, click the youtube link below