Chettinad Paneer Masala
This is a chettinad style  paneer curry prepared using spicy and aromatic masala.This goes well with rice or roti.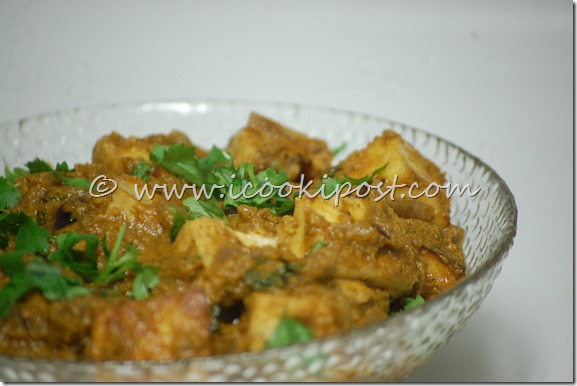 Ingredients
Paneer – 200 gms
Onion(chopped,medium) – 1
Grated Coconut –  1/2 cup
Peppercorns –  6
Garlic  – 2
Cardamom –1
Clove – 2
Cinnamon stick –1/4" piece
Cumin seeds –1/4 tsp
Coriander seeds –1 tsp
Fenugreek seeds(uluva) – 1/4 tsp
Fennel seeds(perumjeerakam) – 1/2 tsp
Turmeric powder – 1 tsp
Red Chilly powder – 1  tsp
Salt
Oil
Coriander leaves – to garnish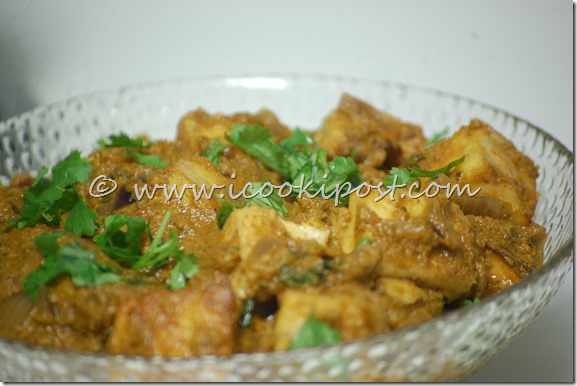 Preparation
Heat oil in a pan and fry paneer cubes till light brown.Soak fried paneer  in cold water to keep  soft.otherwise it will be hard after frying.
Roast grated coconut,peppercorns,garlic(chopped),cloves,cardamom,fennel seeds,cinnamon stick,cumin seeds,coriander seeds,fenugreek seeds.Once aroma comes, add red chilly powder and stir well.
Immediately remove from fire to avoid burning.Let it cool and grind it to a fine paste adding little amount of water..
Heat oil in a pan.Saute chopped onions till light brown.
Add the masala paste to it.Add salt to it.Stir well and once the oil clears,add  1/2 cup of water and cook.
Once it starts to boil,add fried paneer cubes to it and mix.cover and cook for 2 minutes to get mixed  with the masala
Remove from fire.
Garnish with coriander leaves.