Kashmiri Palak Paneer
Kashmiri Palak Paneer is prepared using palak and paneer sauteed in dry spices.This recipes is adapted from Chef Marut Sikka's "Lock Stock and Two Smoking Tikkas"  NDTV Good Times cookery show .This goes great with roti.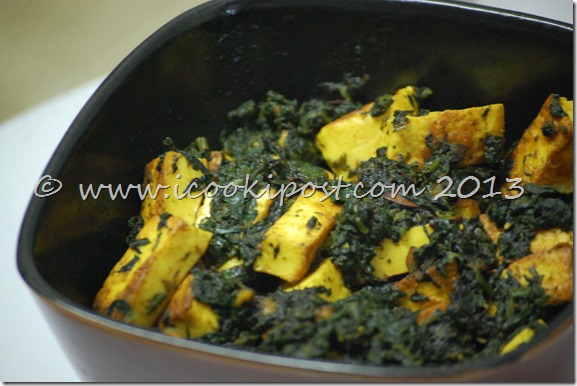 Ingredients
Baby spinach – 1 bunch

Paneer (cottage Cheese)– 500 gms

Cinnamon stick – 2

Garlic cloves – 4

Turmeric powder – 1 tsp

Kashmiri Red Chilly Powder – 2 tsp

Dry ginger powder-1 tsp

Cardamom powder –1 tsp

Black Pepper powder-1 tsp

Roasted cumin seeds powder – 1  tsp

Oil – 2tbsp

Salt

Water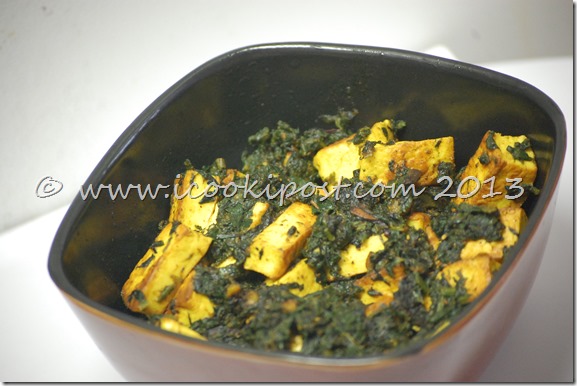 Preparation
Wash and clean leaves of  baby spinach.Boil some water in a pan.Add some salt and put the spinach leaves into it

Once it starts to boil,take it out and strain it.Allow it to cool by adding cold water.

Squeeze out the extra water from the spinach and cut it coarsely.

Dice paneer into rectangular cubes.Heat oil in a pan and fry paneer cubes till golden brown.

Transfer into a bowl with cold water and soak in water so that they turn soft.

Heat 2 tbsp of oil in a pan.Add cinnamon sticks, chopped garlic,chopped spinach and saute it.

Once it is done, add turmeric powder and red chilly powder.Saute it.

Once the raw smell goes, add cumin seeds powder, dry ginger powder,cardamom powder and pepper powder.

Now drain the water out from the soaked paneer and add the paneer cubes to the cooking spinach.Add salt to it.Mix well and saute for 2-3 minutes.

Remove from fire .