Mutter Paneer (Green Peas and Cottage Cheese Curry)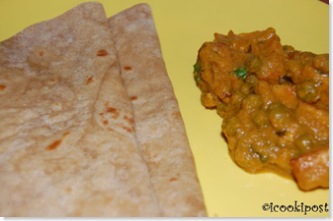 Ingredients:
Green Peas(Matar) – 1 cup
Paneer (cottage cheese)cut into cubes – 250 gms
Onion (medium,chopped) – 2
Tomato (medium) – 2
Ginger-Garlic paste – 2 tbsp
Turmeric powder – 1/2 tsp
Red chilly powder – 1 tsp
Coriander powder – 1/2 tsp
Garam masala powder – 1/2 tsp
Green chilly (chopped) – 2
kasoori methi powder – 1/2 tsp
Salt – to taste
Coriander leaves – a few
Oil
Preparation:
Cut Paneer into cubes and fry until golden brown in color..
Boil green peas and keep aside.
Make a fine paste of onions,tomatoes and green chilly.
Heat oil in a kadai.Fry cloves, bayleaves for few secs. Add the onion paste,ginger –garlic paste to it and fry on medium heat until oil separates from the mixture.
Then add turmeric powder,chilly powder,coriander powder, kasoori methi powder,garam masala ,salt and mix well.
Add green peas, paneer to it and boil for 4-5 mins with enough water to make thick gravy.
Garnish with chopped coriander leaves and serve hot.