Kerala Chicken Biriyani (Malabar Kozhi Biriyani)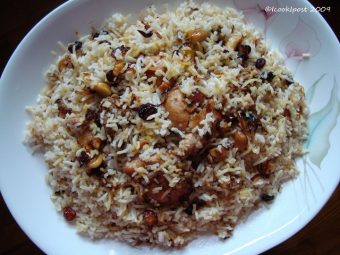 Ingredients:
Chicken – 1 kg
Basmathi Rice(Jeera Rice) – 1 kg
Onion – 6
Ginger – 50 gms
Garlic – 8
Green Chilly – 4
Curd – 1 cup
Kus Kus (poppy seeds) – 2tsp
Garam Masala powder – 3 tsp
Coriander leaves – 2tbsp
Pudina leaves – 2 tbsp
Curry leaves – 2tbsp
Lime juice – 2 tbsp
Dalda (Ghee) – 250gms
Cashew nuts -2tbsp
Raisins – 2tbsp
For Making garam masala powder
Cloves – 4
Cardamom – 6
Shah jeera (caraway seeds) – 1 tsp
Cinnamon stick -1 inch piece
Nut meg (jathika) -1/4 piece
Mace (jathi pathri) – 1 tsp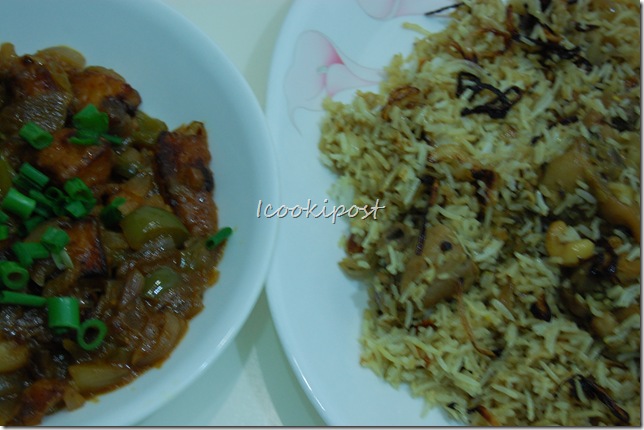 Preparation:
Soak rice for 15 minutes.
Heat oil in a pan and add half of chopped onions and saute till it changes its color. Add ginger- garlic-green chilly paste, chopped green chilly and saute well.
Add biriyani masala powder and once smell comes, add chicken pieces to it and stir well. Add curd, kus kus, salt ,1/2 cup water and allow it to cook on medium flame.
Once chicken is half cooked, add lime juice, chopped curry leaves, coriander leaves and pudina leaves. Once gravy becomes dry, remove from heat.
Heat ghee in a pan and add the remaining chopped onions and fry to golden brown.fry cashews and raisins in the same ghee and keep aside.
In the same pan, add rice to it and fry for 5 ?10 minutes.Add required amount of water(double the quantity of rice),salt .cover and cook till done.
In a large pot, layer the chicken pieces first then sprinkle garam masala powder over it, put a second layer of rice and then put garam masala powder,fried onions, cashews,raisins and repeat this until everything is used up. Sprinkle fried onions and coriander leaves on top.
Leave on low heat to keep it warm.
Serve with Raita and pappadam.