Paneer Bhurji (പനീര്; ബുര്;ജി)
Paneer(cottage Cheese) is Nutritious and it is rich in proteins and calcium.Paneer  bhurji is prepared with crumbled cottage cheese in a onion-tomato sauce.It is delicious and  goes well with paratha.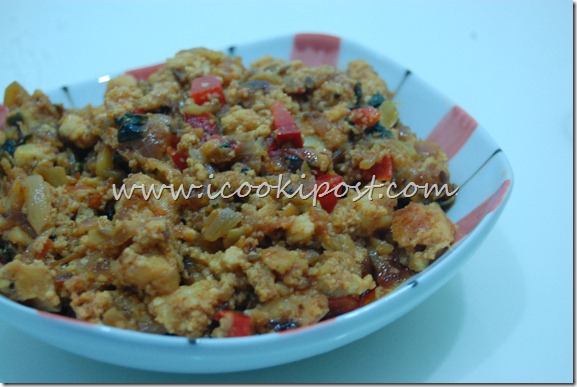 Ingredients
Paneer(crumbled) – 500 gms
Onion – 2
Tomato(chopped) – 1
Green Chilly – 2
Ginger-garlic paste –2 tsp
Red Chilly powder – 1tsp
Turmeric powder –1/2 tsp
Cumin Powder – 1tsp
Vegetable masala powder –1tsp
Tomato Paste –1/4 cup
Cream –1tbsp
Sugar -1tsp
Coriander leaves
Capsicum (red) – to garnish
Preparation
Heat oil in a pan.Saute chopped onions,chopped tomato,ginger-garlic paste and chopped green chilly.
Add crumbled paneer and stir.Add red chilly powder,turmeric powder,cumin powder,veg.masala and salt.Mix well.
Add water and tomato paste to it.Mix well.cover and cook paneer in sauce to absorb flavors.
Gradually add cream,sugar and coriander leaves.
Allow flavors to infuse for at least 15 minutes before serving.
Garnish with diced red  capsicum.
Serve with rice or roti.
This Entry goes to " Letz Relishh –  Paneer " hosted by Jay and BSI-Paneer hosted by ruchika