Poha Tikki ( Poha Patties)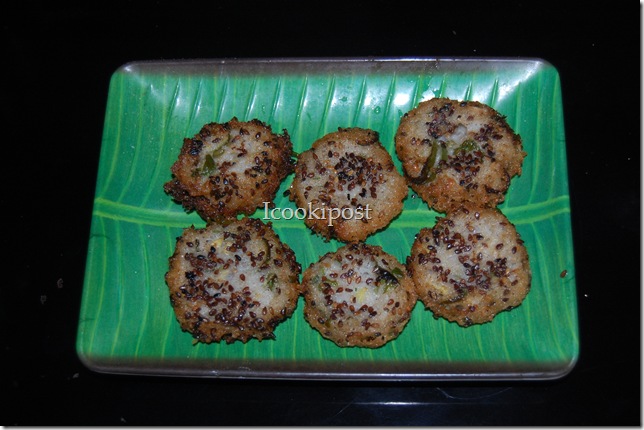 Ingredients:
Poha(Flattened rice flakes) – 2 cups
Ginger(chopped) – 1 tsp
Lime juice – 1tbsp
Green Chilly (chopped) – 1
Garam Masala – 1/2 tsp
Coriander leaves – 2 tbsp
Salt – 1 tsp
Sesame  seeds – 1/4 cup
Oil – 4 tbsp
Preparation:
Wash poha well and soak it  in water for 15 minutes. Drain and squeeze well to remove water.
Add finely chopped ginger, lime juice, chopped green chilly chopped coriander leaves, garam masala , salt and mix well.
Take a small portion and flatten it by pressing between your palms to make tikkis.
Roll over sesame seeds spread on a plate.The original recipe calls for poppy seeds.but i couldn't find poppy seeds here. so i used sesame seeds instead  and it tasted great.
Heat oil in a pan and  fry on medium flame until brown on both sides.
Drain on a tissue as sesame seeds produce oil after frying tikkis.
Serve with chutney.