Prawn Rava Fry
I am a regular viewer of NDTV Good Times and love watching Aditya Bal's Chakle India.His recipes are easy to follow and this recipe is adapted from his Chakle Academy show.This is prepared by marinating prawns in spices and coated with egg-breadcrumbs mix and fry in oil.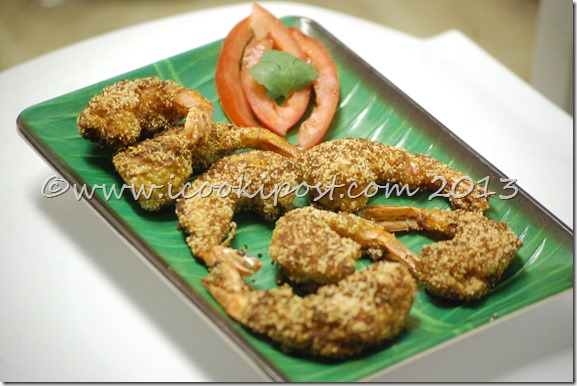 Ingredients
Prawns – 250 gms

Ginger-garlic paste – 4 tbsp

Turmeric powder – 2 tsp

Rava/semolina – 50 gms

Red chilly Powder –2 tsp

Coriander powder – 2tsp

Egg –1

Rice flour – 1 tbsp

Bread Crumbs – 50 gms

Refined oil – 200gms

Salt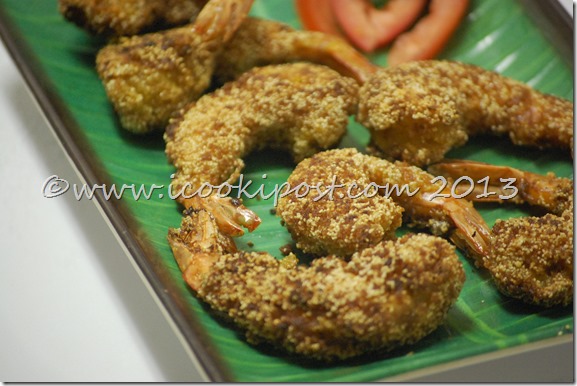 In a bowl, mix ginger garlic paste, turmeric powder, red chili powder, coriander powder, salt, and two teaspoons of refined oil.

Devein prawns and partially butterfly them .Marinate the prawn with the paste and keep it in the fridge for 20 minutes.

In a bowl, add rice flour,beaten egg and salt. Mix them well .In a plate, mix bread crumbs, rava, red chili powder and salt.

Take the marinated prawn, coat them with the egg mix and then in bread crumb mix. Keep it in the fridge for 10 minutes.

In a pan,add 200 grams of oil to deep fry the prawns. As the oil gets hot enough, add the marinated prawns into it.Fry till light brown in color.

Serve hot as an appetizer.
Recipe Source: Chakle Academy,NDTV GOOD TIMES