Spicy Honey Chicken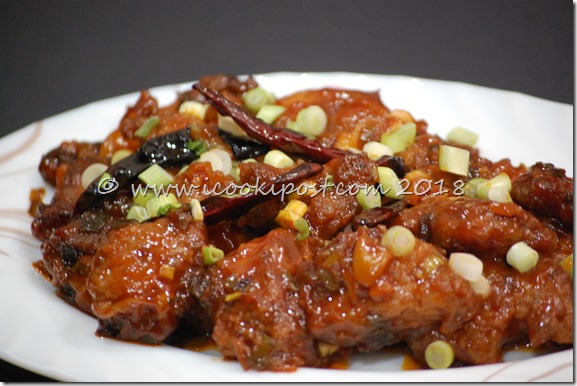 Ingredients:
Chicken (cut into cubes) – 500 gms
To Marinate chicken
Pepper Powder – 4 tbsp
Soy sauce – 4 tbsp
Salt – to taste
Sugar – 2 tsp
Corn flour – 1 1/2 tbsp
Oil –  1/2 cup
For Sauce
Oil – 1 1/2 tbsp
Dry Red Chilly – 8
Garlic paste – 2 tsp
Spring Onion(greens, finely chopped) – 1/2 cup
spring onion( white bulbs or stem) – 1/2 cup
Tomato Sauce – 3/4 cup
soy sauce – 4tbsp
Honey – 3 tbsp
Salt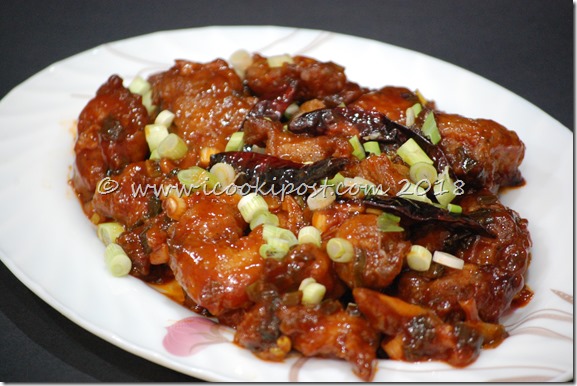 Preparation:
Marinate chicken with the ingredients mentioned above and let it rest for 2 hours.
Heat oil in a frying pan.Fry chicken pieces till done.
For making sauce,heat oil in a pan.Add red chilly,garlic paste and saute well.once the raw smell goes,add finely chopped spring onion and saute well.
Add tomato sauce,soy sauce,honey and salt.Mix well.
Finally add fried chicken pieces and 1/4 cup spring onion white bulbs to it.Mix well to get sauces all coated with the chicken.Check for salt as sauces contain salt.
Garnish with spring onion white bulbs.
serve with Fried Rice.