Tres Leches Cake/Mexican Milk Cake
The Tres Leches Cake is a popular Mexican dessert. It's a type of sponge cake soaked in three varieties of milk and topped with whipping cream. The best Tres Leches Cake I've had, is from the Safeway store bakery and after tasting it,I wanted to give it a try. This is my kids favorite  and I hope all my readers will enjoy this yummy, homemade dessert!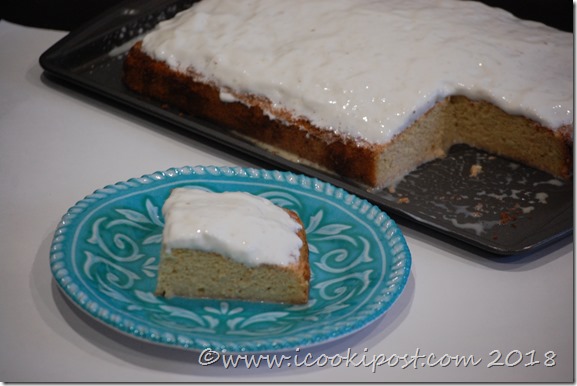 Ingredients:
Sponge Cake
Cake flour/All Purpose flour – 1 1/2 cup
Baking Powder – 1 tsp
Salt – 1/3 tsp
Butter(unsalted,softened) – 1/2 cup
Granulated Sugar – 1 cup
Eggs – 4
Vanilla Essence – 1 1/2 tsp
Milk Mixture
Sweetened Condensed Milk – 1 tin/14 oz
Evaporated Milk – 1 tin/12 oz
Heavy Cream – 1/2 cup
Topping
Heavy Cream – 2cups
Granulated sugar – 1/4 cup
Vanilla – 1/2 tsp
Preparation:
For Sponge Cake
Preheat oven to 350 degrees F. Grease a baking dish(9 * 13 inch) with  butter and keep aside.
In  a bowl, add sifted flour. Add baking powder and salt and whisk for about 20 seconds. Set aside.
In another bowl, add butter and sugar and beat well using electric hand mixer till fluffy and light.
Mix in eggs one at a time and beat well. Add vanilla essence to it.
Add flour 1/4 cup at a time and combine well. Scape down sides and bottom of bowl and fold until evenly incorporated.
Transfer batter into pre greased baking dish and spread into a even layer. Tap them on the counter to remove air bubbles.
Bake for about 25 minutes until toothpick inserted into center comes out clean. Remove from oven and allow the cake to cool completely for about 45 minutes.
Once cool, poke holes all over the top of the cake using a fork.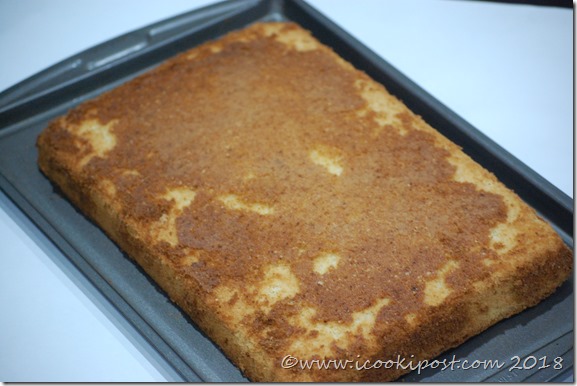 For Milk Mixture:
In a large mixing bowl, whisk together condensed milk, heavy cream,evaporated milk until mixed well.
Slowly pour the milk mix evenly all over the top of the cake. Make sure to pour near the edges and all around.
Cover and chill the cake overnight. This will help milk to soak into the cake.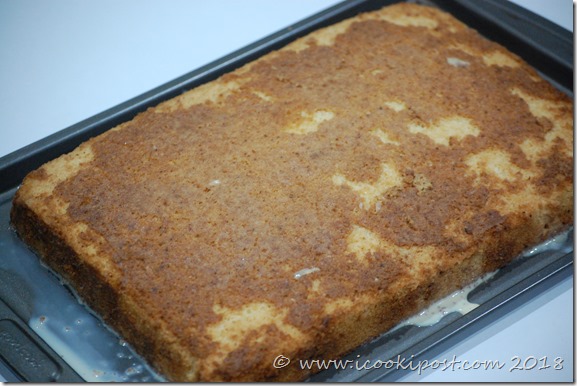 For Topping:
In a bowl, add heavy cream and using hand mixer, whisk till soft peaks form.
Add in sugar and vanilla and whip until stiff peaks form.
Spread the whipped cream topping over the chilled cake.
If you like, top it with fresh, sliced strawberries.
Serve Chilled.
You can store in refrigerator for 4- 5 days.